Testimonials
My whole family love our custom city skyline prints. They look amazing and are a lovely reminder to all of us of places we have lived and visited mostly as a family so they have even more of a special meaning and memory. Thanks so much Ave for your great work and talent!

Donna
LOVELY ART, GREAT SERVICE. I purchased 2 Toronto skylines as gifts. The prints are beautiful! Very original and excellent quality. The online store provided great service and the prints were delivered quickly. Thank you!

Cynthia
I got custom prints done of Chicago, Illinois, Athens, Georgia, and Innsbruck, Austria! They are beautiful and look great framed and hung up. They serve as a great reminder of the time I spent at each of those cities and Ave incorporated some of my favorite places in each one.

Alyson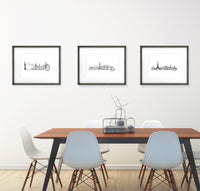 City Skyline Prints
Showcase your love for cities you have traveled to! 

Minimalist skyline graphics - a memento or gift item for anyone who wants to take a piece of the city they love home.

Inspired by the minimalism, geometry and colour palette of the traditional shoji screen, Ave Mariabell's city skyline designs looks fabulous in a scandinavian or japanese inspired home decor setting. 
Skyline Designs

Home decor, apparel & gifts
Skyline Designs
Home decor, apparel & gifts