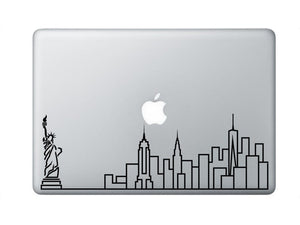 Decorative skyline decal, by Ave Mariabell Designs.
Skyline art graphic so that you can take a piece of the city you love home with you! Perfect travel memento or wanderlust gift for your travel memories! Collect the skylines of all the cities you have travelled to!
The decal is specifically sized for 11", 13" and 15" MacBook laptop (with Retina display). However this decal can be applied to any clean, dry, flat surface and can be decorative art for your wall, door or window. Placement and size of decal on laptop may vary slightly from the image shown.
Description:
*Cut-out vinyl.
*Durable for 3-5 years.
*Comes packaged in a envelope with installation instructions.
*Custom size and designs are also possible at an extra cost. Contact shop owner for customization.
*FREE SHIPPING IN CANADA*
CARE INSTRUCTIONS: This decal is an indoor vinyl and depending on the environment, it is durable for 3 - 5 years.
Durability is always dependant on the environment. Can be applied to any, clean, dry surface. If you apply to a laptop, please keep your laptop in a laptop sleeve or in a separate pocket in your laptop bag. This ensures keys and other objects in your bag do not scratch or peel the decal.
Depending on the surface you apply it to, the decal is removable and may require alcohol rub to remove any sticky residue. Always be gentle and careful during the installation process. Too much pressure and rubbing of the transfer paper may result in a high sticky residue.
SHIPPING POLICIES This is a made-to-order item. Fulfillment may vary from 5 to 7 business days. Shipping (after fulfillment) can vary from 3 to 10 business days, depending on your location. We are not responsible for any mail, post office or duty-based delays. Shipments outside of the USA may incur customs fees depending on the destination country. The fee may vary depending on your order value, country limits, and other factors based on the product itself. The receiving customer is responsible for these fees. Any fees are paid to appropriate customs agency by the end customer.
COPYRIGHT © Ave Mariabell Designs. Artwork may not be reproduced or resold without the permission of the artist. The sale of an item does not imply the transfer of rights to the purchaser. All rights remain with Ave Mariabell Designs.